I have a list of things I want to do in the shop/garage (build a
router table/stand
, build a
rolling table saw stand
, build a
lumber cart
, build some kid's canoe paddles), but I'm starting to think about what boat is next.
I think a small kid's kayak will be first - the Yost Sea Flea perhaps. (
Here is a recently completed example
.) Boatbuilder Donald Taylor visited me while in town a few months ago on a trip from his home in New Brunswick. In addition to showing me photos of his guillemot, he also showed me photos of the Sea Flea he built for his 6-year old daughter. We talked a lot about the building process for the Sea Flea and my wife too thinks this would be a good thing to build for our daughters. I mentioned the idea to our older daughter and she is quite excited by the prospect of having her own kayak that she could help me build. In fact, I recently found this drawing taped to the wall: (excuse the b&w scan)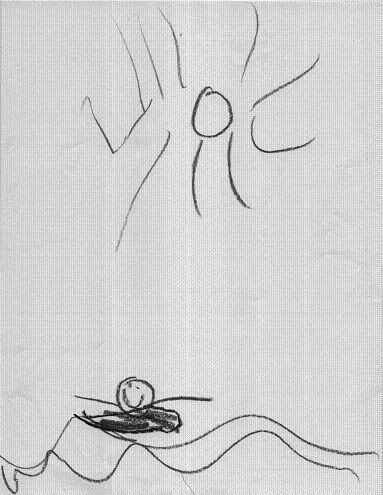 It looks like she's taking on some nice wave's in her kayak!
So I guess that's been decided and it's just a matter of when, how, and what colour.
Then maybe another kayak, for me this time. I think it would be a stitch & glue in order to get something on the water a little quicker. Something like the
Point Bennett 18
maybe. A folding skin-on-frame kayak like one of those designed by
Tom Yost
has a certain amount of appeal too.
Or maybe my next build should be a fast tandem tripping canoe. Like the
Green Valley Winisk
(I already have the forms for a
Kipawa
, but I think something larger would fit the family better) or the
Bear Mountain Freedom 17-9
.
Or, maybe I'll
go big
with the 18'6"
E. M. White Guide
canoe from Gilpatrick's book or Green Valley's
Quetico
. Or maybe I'll
go small
er with a solo canoe. The stitch & glue Osprey II from Green Valley appeals to me because of the quicker build of a S&G boat, but I think it's too small for me (plus I can't seem to find it on their web site any more?). The
16-2 Freedom Solo
seems pretty much perfect though for me in that category. Or maybe I'll build a small tandem, something I can paddle solo but can have my girls along while they are still small, or which they could tandem paddle when they are older.
However, before I build anything else I want to improve the wiring in the garage/shop & the heating as well. Hmm, maybe I should go clean up the garage first.